Male care worker urges young men to consider a career in care
Developing the next generation of care staff
 "More must be done to encourage young men to consider a career in the care sector," says Jarred Stansfield, a 20-year-old care assistant in Surrey and one of Anchor's youngest employees.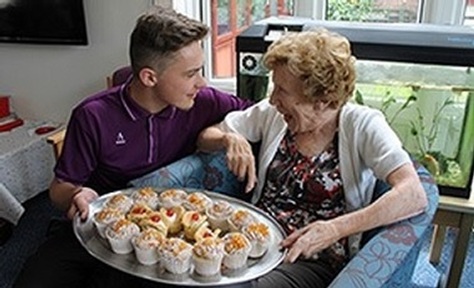 Jarred Stansfield
Having left college at 17, Mr Stansfield flitted between different jobs for two years before finding a role he says has helped him "find direction in life" – a care worker at Anchor's Heathside care home in Coley Avenue, Woking.
After making such a difference to the lives of older residents in the six months that he's been a care worker, Mr Stansfield has been chosen to lead a campaign in Surrey to address the chronic shortage of male care workers across the sector.
'Unlike other jobs, I don't dread going into work'
He said: "My other jobs had no meaning to them and I wasn't helping anyone but care is completely different. Unlike other jobs, I don't dread going into work. Anyone from all walks of life can do this job as long as they have empathy for older people because you are supported all the way.
"Although there are easier jobs, the level of satisfaction I get every day makes up for the challenges you sometimes face. And as there's lots of overtime and flexible working hours, which would be good for any university students balancing paid work with studying, it means I have a good social life too."
Anchor commissioned a survey which found that by 2025 there will be a shortfall of one million care workers across the country needed to look after Britain's ageing population.
As it stands, the care sector is heavily dominated by female workers, with men making up just 15.3 per cent of the workforce. But whilst many people think care is a woman's job, Mr Stansfield believes that this "couldn't be further from the truth."
He said: "As people are living longer, more men are going into care so many of them prefer to be looked after by a male carer. Society used to think nurses were just women and that has changed. I hope this campaign will open young men's eyes to the great opportunities care has as a career."
To read the full article follow https://www.carehome.co.uk/news/article.cfm/id/1586238/Care-worker-ages-20-urges-young-men-to-consider-a-career-in-care
Article By: Melissa McAlees 10-Jul-17